The Askoi tou Aiolou Project was designed to set up and support the operation of a panhellenic network of school computer labs (from the Mnistires and Odysseas Projects) linking 379 schools (selected by the Ministry of Education) in 29 prefectures.
The Panhellenic School Network created hubs in 29 prefectures. These are installed in premises operated by the Hellenic Telecommunications Organization, which provides the necessary circuits for linking the hubs. Internet access is supplied through the National Research and Technology Network.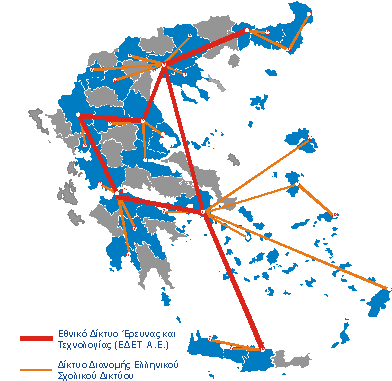 The Panhellenic School Network is providing network services to every work station in the Odysseia school computer labs, examples of which include:
"User-friendly" multimedia e-mail
Bulletin boards, discussion lists
Thematic libraries hosted by the hubs and shared by all the schools
Access to educational software, for shared use by students in remote schools
Possibility for students to create their own presentations on subjects they are interested in and publish them for all to share.
Encouragement of on-line participation in distance seminars, discussions and lectures though audio-visual media.
Exploration of mechanisms for filtering access to undesirable Internet sites.
In addition to the Odysseia schools, the Panhellenic School Network is providing Internet access to all schools in every prefecture.
For more information, please visit the Project web site.